A home purchase is a considerable investment. It's a place where many people spend the majority of their waking hours in for several years. A house is also one of the most expensive items that most of us will ever buy.
Homebuyers have to budget carefully. They need to have enough for their monthly mortgage and utility payments, in addition to other current expenses. Buyers also need enough funds set aside for a down payment, unless they can afford to purchase the property up front.
Buying a home in Tennessee isn't always easy. The entire process can take several weeks or months to complete, and there are different parties that will be involved along the way. You should still be able to achieve your goal. All it takes is a little persistence, patience and a solid plan of action. Here are a few things to know about the down payment when buying a house:
A down payment is a percentage of the total purchase price. It's your first investment in the home. The remainder of the balance is usually borrowed as a mortgage loan.
Down payment amounts and percentages can vary, depending on where you live, the type and size of home that you're buying and the lending institution. Most down payments are typically between ten to twenty percent of the home's sale price. For example, a 10% down payment on a house priced at $200,000 would be $20,000.
There are a few types of loans that offer down payments at reduced percentages. Some of them are as follows:
1 .USDA loans
These loans are backed by the United States Department of Agriculture's Rural Development program.
These loans don't require a down payment. These kinds of mortgage loans are tailored to people who meet their specific income and other qualifications.
2. VA loans
Veterans Administration loans, or VA loans for short, are secured by the United States' Department of Veteran Affairs.
You don't need a down payment for most of these loans. Current service members and veterans and surviving spouses of military members can qualify for this type of loan.
3. FHA loans
FHA loans are supported by the Federal Housing Administration. The lowest down payment for an FHA loan is 3.5 percent of the total sale price for people with a credit score of 580 and above.
The minimum down payment on FHA loans for people with credit scores between 500 and 579 is 10 percent. There are no minimum or maximum income amounts required for an FHA loan.
4. Conventional mortgages
There are several companies that specialize in conventional home mortgage loans. The minimum down payment for conventional mortgages is around three percent.
Each company has its own qualifications and requirements, so feel free to shop around until you find an offer that best meets your needs.
One drawback to conventional loans is that you'll also need to buy private mortgage insurance in most instances.
Pre-qualification
Pre-qualification is recommended for most traditional mortgage loans. Schedule a meeting with your lender to discuss your intentions of becoming a homeowner.
The lender will review your employment and credit history and then issue a preapproval letter with the dollar amount and terms that they are willing to offer.
A preapproval letter doesn't guarantee that you'll be able to own a home, but it can give you a distinct advantage over other interested parties who haven't secured their financing yet.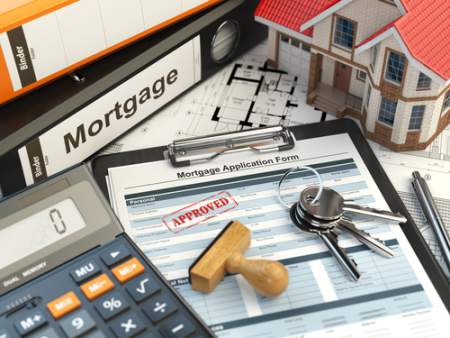 Before you meet with a lender, take some time to examine your finances. Review your income and expenses. If there are any items from your budget that are unnecessary or redundant, now is the perfect time to eliminate them.
All of your current bills should be paid on time, or ahead of time if possible. If you are carrying credit card balances, loans or other outstanding debt, you should make every effort to pay them off or down as much as possible. The less debt you have, the more favorable you will look to mortgage lenders.
Setting Goals | Emergency Funds
If you don't have enough money saved for the down payment, you can start setting goals for yourself. Set aside a certain percentage or dollar amount from each paycheck to put towards the down payment. Calculate how long it will take for you to save until you can afford the down payment. You can create a calendar or timeline to monitor your progress.
Stick to your budget, and look at things in the long term. Remember that you'll need to have enough money for your monthly mortgage payments and utility bills. There may also be monthly association dues if the home is part of a townhome, condo or other related types of homeowners association.
It's a good idea to set aside some emergency funds for any repairs, replacements or renovations that will need to be made in the future. You never know when a window will break, a faucet will leak or the refrigerator or air conditioner will suddenly stop working. Many experts suggest having enough emergency funds equal to about six months of living expenses or more.
It can be very easy to be distracted while you're planning on buying a home. A new car, boat or other high-ticket items may be appealing, especially after you've secured your down payment.
However, this can not only stretch your further, but it could also impact your home purchase. To avoid any complications, delay any other large-ticket purchases until after the home sale transaction has been finalized. Don't open any new loan, credit card or other kinds of charge accounts before you receive the keys to your new property.
Additional information and resources
Your state or local housing programs may have additional information and resources. You may be able to take advantage of first-time homebuyers' housing assistance. Whatever you decide, just make sure that you find the ideal home loan for your own unique situation. You don't have to accept the first loan offer that comes along.
A down payment might seem a little intimidating at first, but they don't have to be. It might take several weeks or months to have enough funds set aside to purchase the home of your dreams, but you will get there eventually. It's an important first step toward becoming a homeowner and starting an exciting new chapter of your life.
Have Questions? Ask The Lumiere Team!
Your real estate agent is the best source of information about the local community and real estate topics. Give Rebecca Edwards call today at 901-451-2001 to learn more about local areas, discuss selling a house, or tour available homes for sale.
Summary
Article Name
Down Payment When Buying A House
Description
Down payment amounts and percentages can vary, depending on where you live, the type and size of home that you're buying and the lending institution. Most down payments are typically between ten to twenty percent of the home's sale price
Author